Breast Augmentation

Breast Augmentation
Due to the raising awareness in recent years, women focus on creating self-image and making enrichment both internally and externally. External factors, such as exercise and fitness, diet control, and body maintenance , are needed to help keep women's body health. Therefore, in addition to keeping an hourglass body shape, slim arms, and legs, having beautiful and plump breasts is also a part that women care about today. Breast augmentation has become one of the most commonly performed plastic surgeries. Instead of pleasing men, women come for breast augmentation for dressing well, enhancing beauty and self-confidence, and hoping to show their bodies with more confidence. Due to the different body shape of each person, the material, size and type for implantation of breast augmentation are also different. The detail about the information of breast augmentation and breast implants is shown as below.
Transaxillary endoscopic breast augmentation: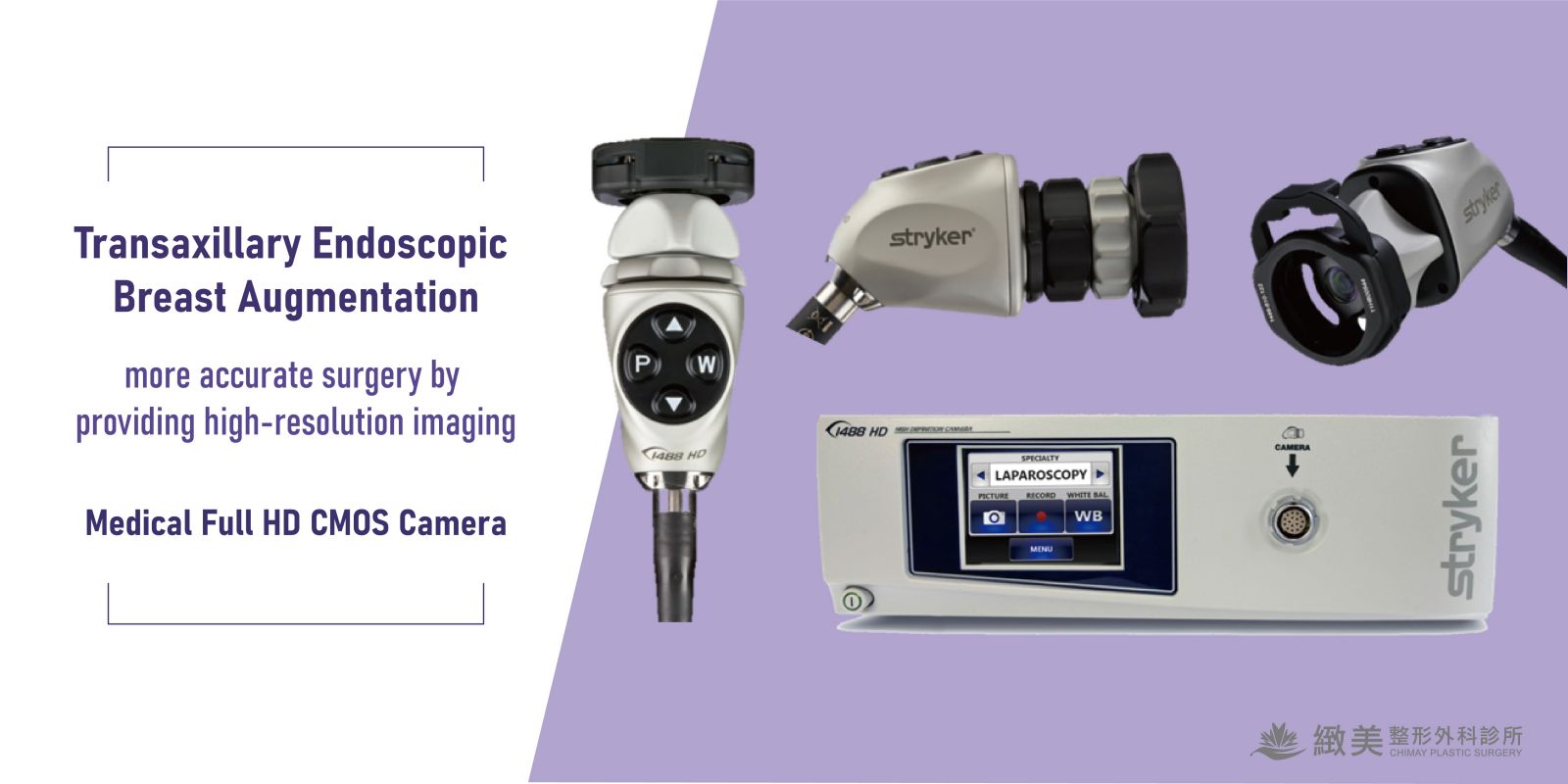 Dr. Zhizheng Hong performed breast augmentation with the aid of a transaxillary endoscope. It is a successful combination of new technological advances and plastic surgery to achieve the purpose of minimally invasiveness, quicker recovery, and stable surgical outcomes, which is also a new trend of plastic surgery.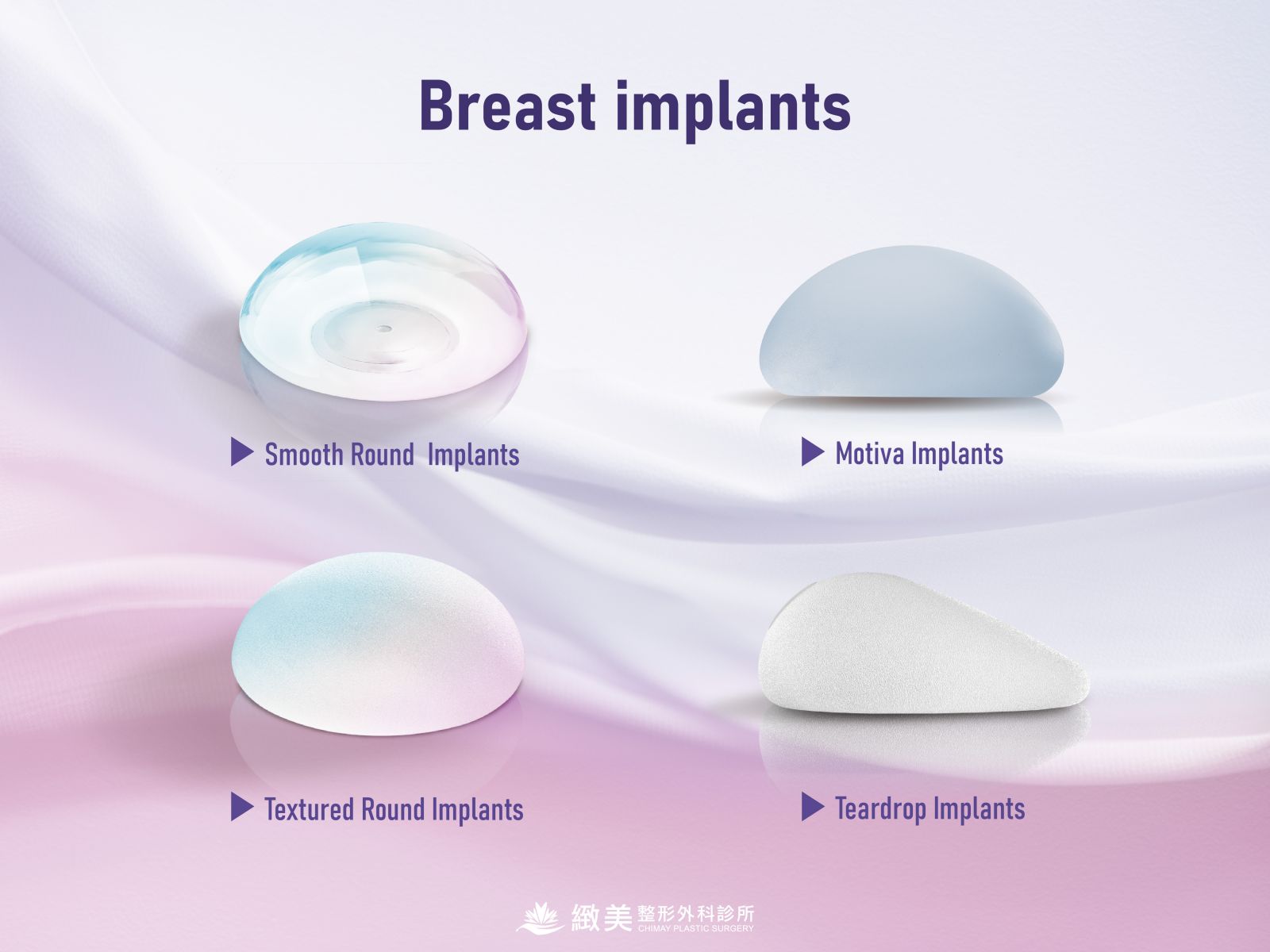 Breast implants:
In order to have various choices for modern women, CHIMAY Plastic Surgery provides a variety of different breast prostheses types and brands, ranging from profile, silicone, size, to body shape and touch, to find out the most suitable breast implants. Till now, the breast implants that have been legally certified by the Ministry of Health and Welfare are "Smooth Round Silicone Implants", "Textured Round Silicone Implants", "Mentor Teardrop Silicone Implants", "Motiva Implants", and"Sebbin Implants".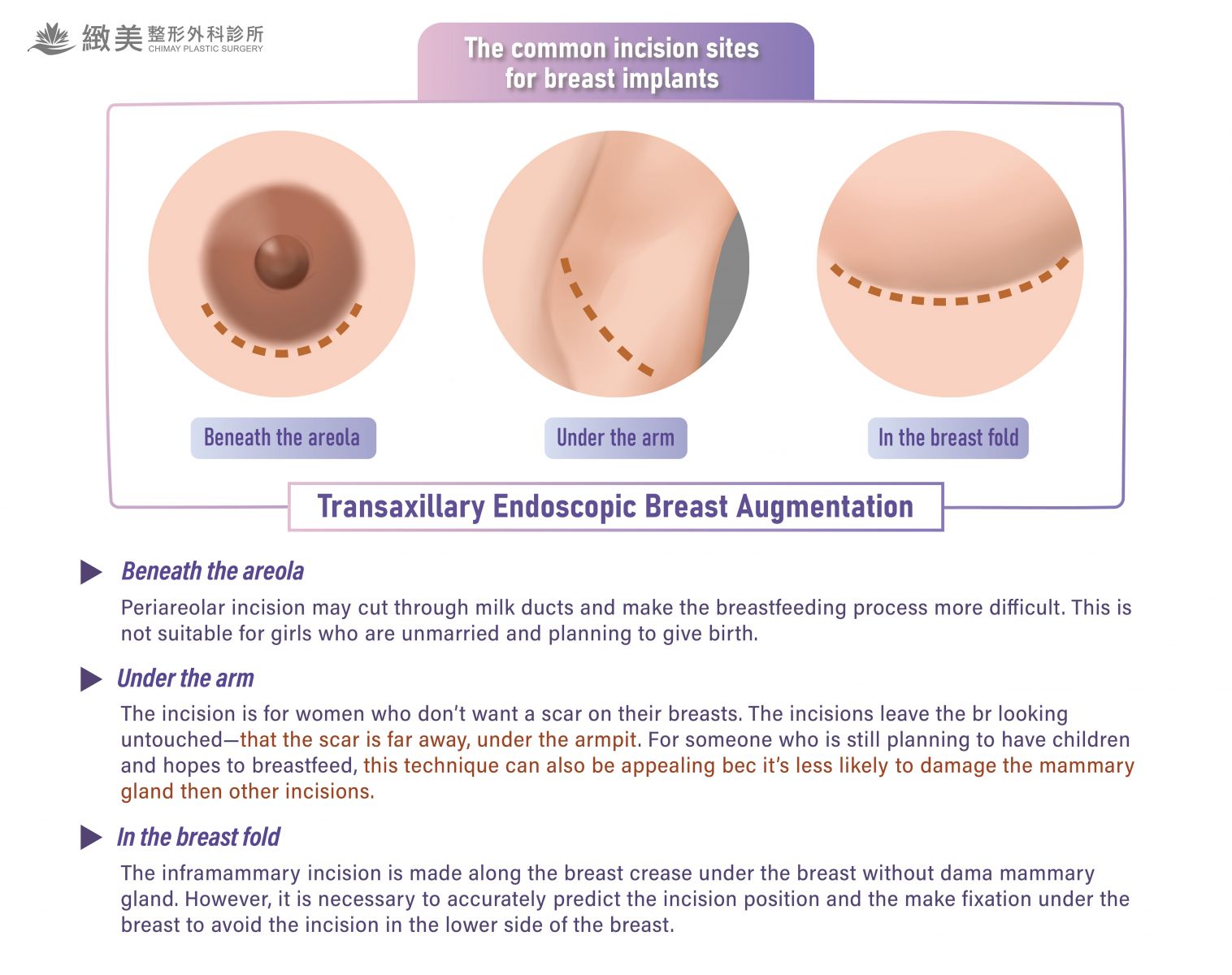 The common incision sites for breast implants
The incision sitesfor breast augmentation are: (1) beneath the areola (peri-areolar) ; (2) under the arm/armpits (axillary) ; (3) in the breast fold (inframammary)...etc. The "armpit incision" is hardly noticeable and can be hidden in axillary folds without damage important blood vessels and breast tissue.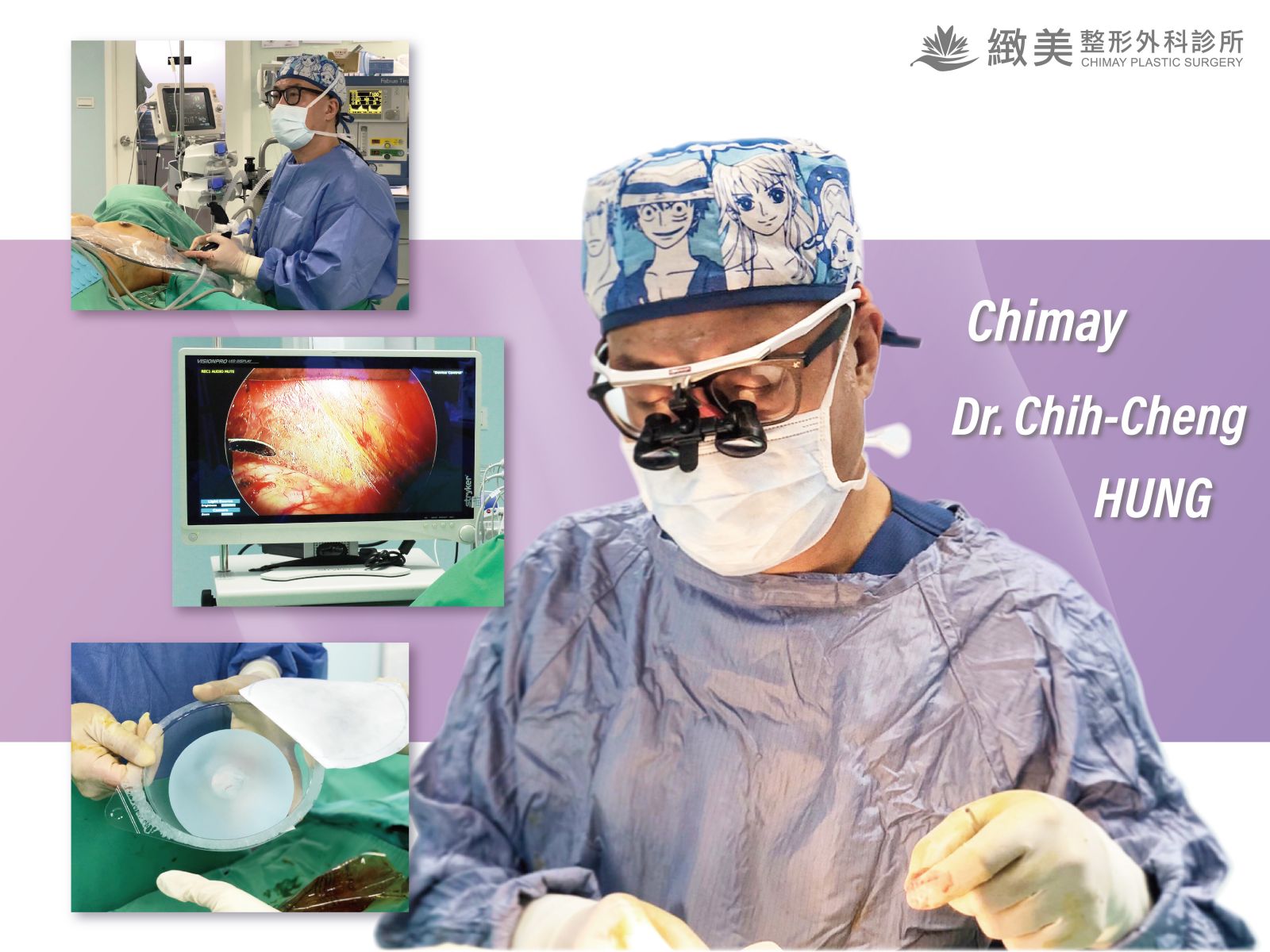 Dr. Hong insisted on the use of "transaxillary endoscopic technique" for breast augmentation by placing a narrow fiber-optic camera through the incision in the armpit and creating the image on a computer screen. Using this method, it is easy to see the body and muscle stripping, so that there is enough space for breast implants placed under the chest (pectoralis) muscle. Because it is not the traditional Brute-Force/Blind Search Method, the accidental nerve injury or excessive stripping could be greatly reduced. At the same time, due to the extremely low of blood loss, there is no need to place surgical drains after the operation. Because the pectoralis muscle is directly stripped from the breast with the cautery or electrical knife, instead of pulling with "brute force", the post-operative acute pain is low, and you are allowed to leave the hospital on the day of operation.
Decision-making method for breast augmentation
The dimensional evaluation of implantation in breast augmentation is related to breast shape and capsular contracture after surgery. At present, there are two major placements for breast implants: "Subpectoral breast augmentation" and "Subfascial breast augmentation".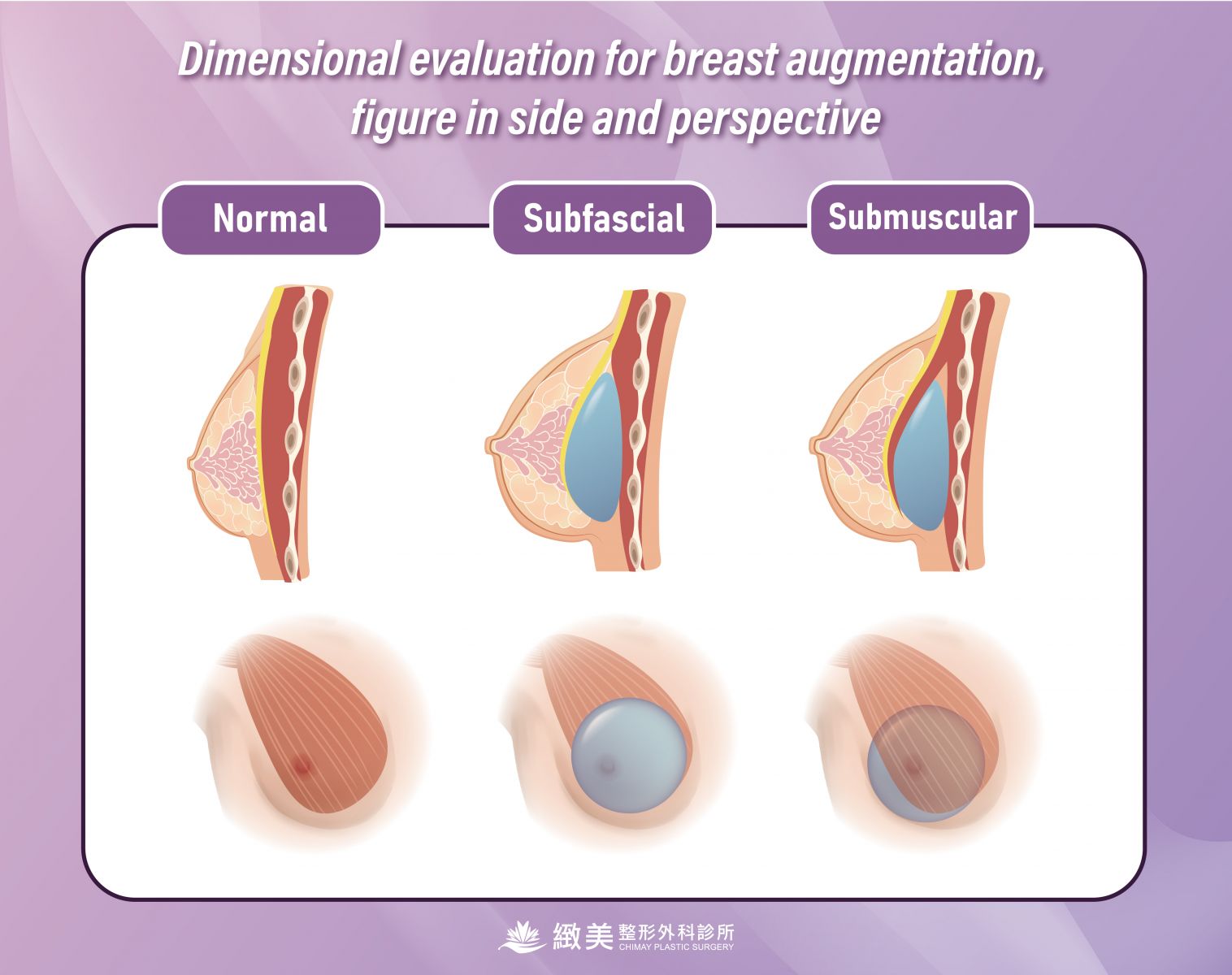 Dr. Hong mostly uses the method of "Submuscular breast augmentation". Submuscular position of the implant with overlying pectoralis muscle (upper layer) and fascia (lower layer) present a natural breast shape with sufficient coverage. This can reduce the chest tightness and the rates of capsular contracture. (The actual dimensional evaluation of implantation varies among cases)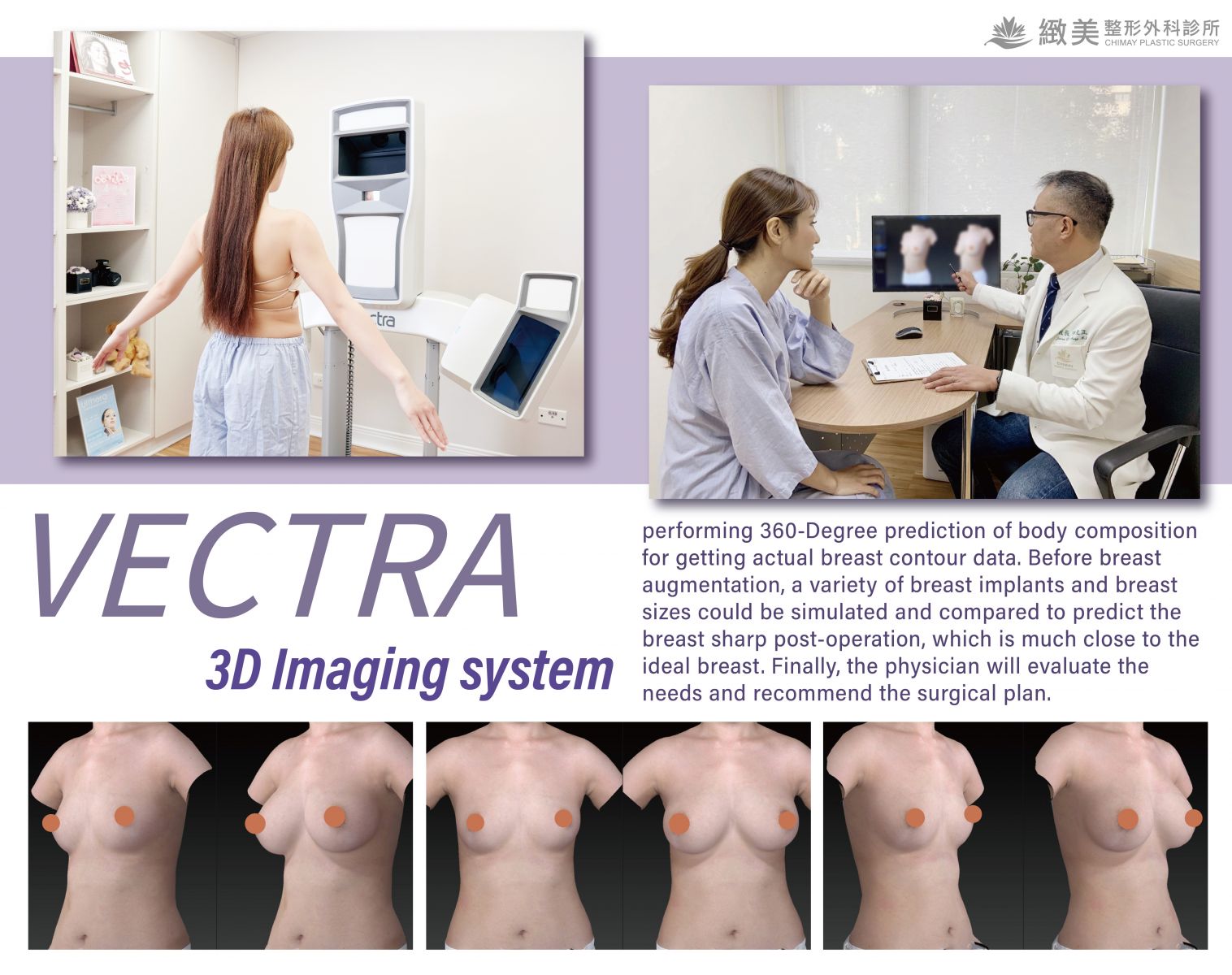 Precise measurement - 3D preoperative simulation system
The preoperative simulation of CHIMAY breast augmentation uses the American VECTRA 3D Imaging system to perform 360-Degree prediction of body composition. Recipients can know their own body conditions and their actual breast contour data. Before breast augmentation, a variety of breast implants and breast sizes could be simulated and compared to predict the breast sharp post-operation, which is much close to the ideal breast. Finally, the physician will evaluate the needs and recommend the surgical plan.
The cases of breast augmentation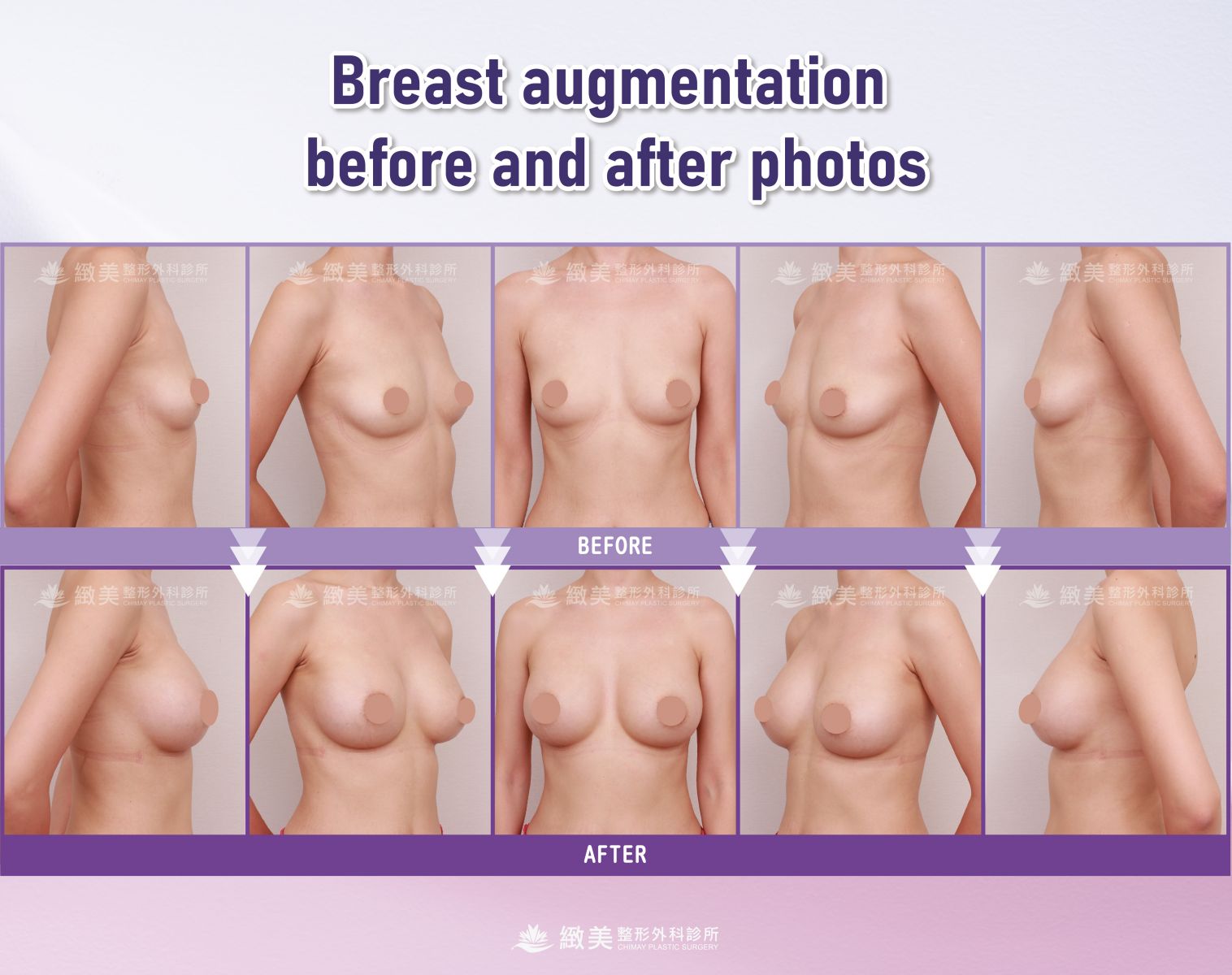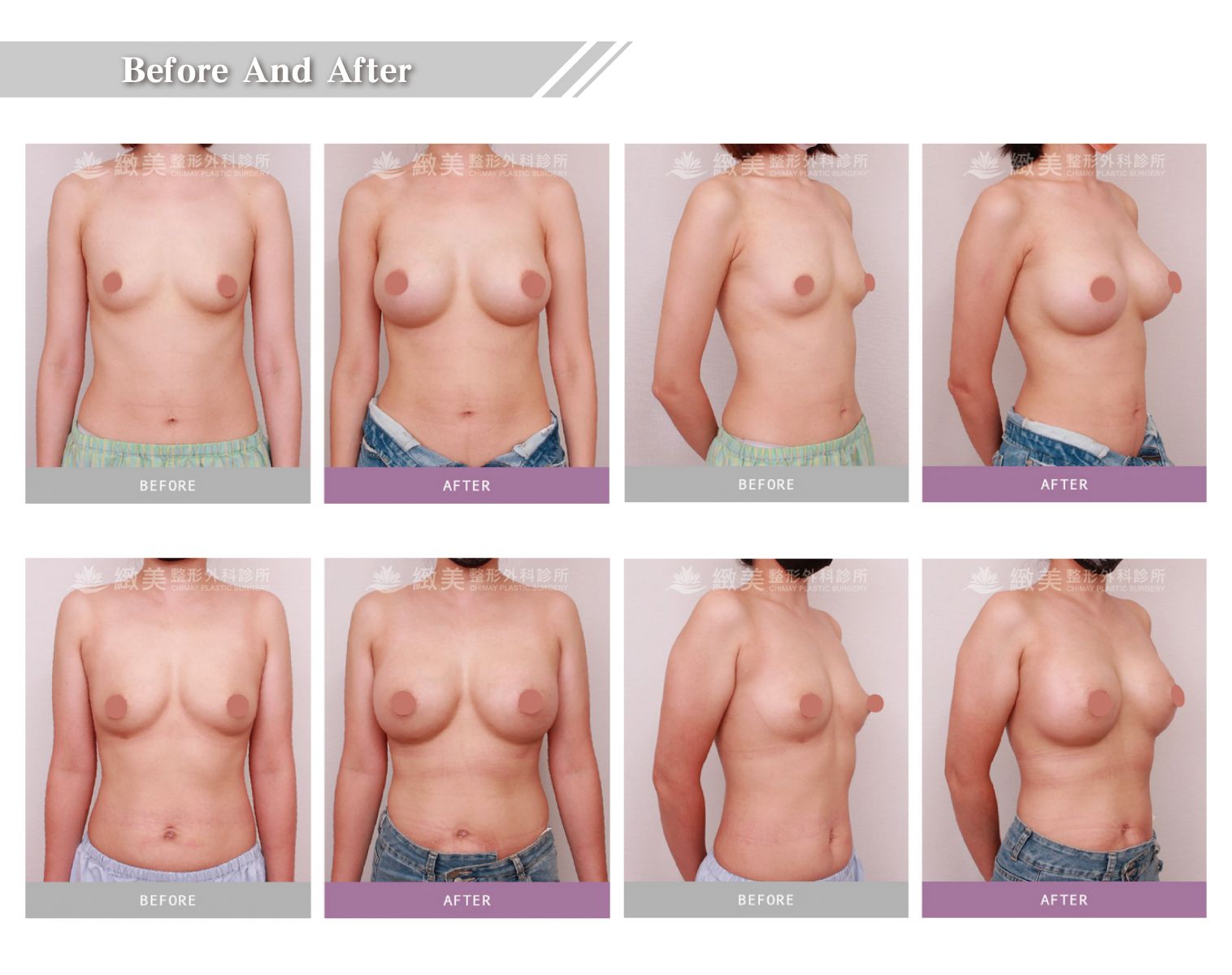 回列表